4 Tips to Make Your 4th of July Party Sparkle
What's more fun than being part of planning a good old fashioned themed party?! 4th of July makes party planning a piece of cake--the date, color scheme, and festive fireworks are already included! If you're looking to take your 4th of July party to the next level, here are a few tips to make it sparkle.
1. Pre-make a cocktail
Any party celebrating America needs a good cocktail! To save your own time, energy, and money, pre-make a cocktail in bulk like a red, white, and blue sangria.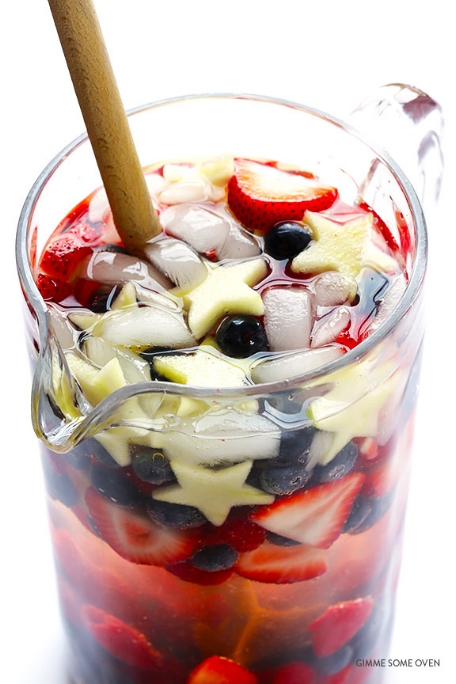 Ingredients: sliced strawberries, raspberries, blueberries, pineapple (or apples) cut into stars, 2 bottles white wine, 1 cup triple sec, 1/2 cup berry-flavored vodka, 1/2 cup fresh lemon juice, 1/2 cup simple syrup, ice
Combine ingredients, chill, and serve!
2. Patriotic Party Activities
Once the cocktails are flowing, keep the party going with some festive activities before the fireworks. Depending on the crowd, there are several games that will keep people entertained and having a great time. Have a corn hole tournament with a bracket and prizes! For younger kids do some easy face-painting, set up a crafting table, lead a water balloon toss, or 3 legged races in the backyard. Create a backdrop and tie in red, white and blue props to serve as a DIY photo booth - fun for all ages. Once it gets dark a fire pit and "make your own" s'mores bar would be a sweet finish!
3. All out decor
From the minute your guests enter, you want them to feel like celebrating. Tie in some element of decor with star spangled, red, white and blue details from food, to place settings, escort cards, favors, music and entertainment to set the tone of one great patriotic party!
4. Create a party favor
Wow your guests with individual gift bags or goodies upon their arrival or as they leave the party. Fill bags or jars with your favorite patriotic things: sparklers, cracker jacks, a nip for those over 21, red, white, and blue m&m's, the possibilities are truly endless. It's all about the personal touches!
We hope these tips were helpful and you all have a safe and happy 4th, friends!
xo